The position of CNC ICOMOS to the theatre auditorium in the garden of Český Krumlov Castle
Details

Parent Category: Památky
Category: Český Krumlov - zámecká zahrada
Published: Thursday, 30 April 2015 11:53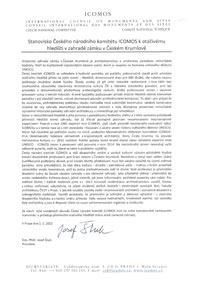 The Český Krumlov Castle garden is a most valuable, integral part of the property inscribed on World Heritage List.
Since the very beginning the Czech section of ICOMOS was strongly against the erection of a rather voluminous construction of auditorium (for 600 visitors!) in front of Bellaria summer house on the premises of historical castle garden. It is worth mentioning that the structure has never got the regular planning permission. We found such sort of building completely incompatible with the character and extraordinary architectural and historical qualities of the castle garden.
This opinion of ours was three times confirmed by the most reputed and respected international scientific authorities. First time by the ICOMOS expert mission followed by the decision of UNESCO World Heritage Committee in 2005. Five years later by the collective opinion of ICOMOS-IFLA International Scientific Committee issued, after complex considerations, in 2010. The third technical opinion of joined World Heritage Centre and ICOMOS mission was given to the case, with the same outcome, this year.
In conformity with all these scientifically-based positions ICOMOS Czech strongly demands that the revolving theatre auditorium be transferred from the grounds of historic castle garden to some other suitable place. Our preference is the space of nursery garden situated next to castle garden grounds in its prolonged main axis. However, we find the suggested surrounding of Kvítkův dvůr mansion acceptable, too. These suitable localities were found and proved by very inspiring outcomes of the student architectural competition organised by the Czech Technical University, Faculty of Architecture, in 2013. We do hope that the transfer capable to meet the needs of both spheres of culture – the theatre as well as the heritage conservation – will take place before long.

Download The position of the Czech National Committee of ICOMOS in Microsoft Word file